For even the Son of Man came not to be served, but to serve...
At Dulles Community Church we believe in modeling Jesus' servant posture for both our local and global communities. Locally we provide many opportunities to be #ForDulles by supporting local community events, helping various local non-profits and even serving your fellow Dulles Community Church family members on Sunday mornings. However, if your calling is towards global missions, we provide opportunities to support or go on mission trips to visit our partner organizations abroad as well.
In addition to our Dulles Community Church missions, please take a moment to pray for and celebrate some of our members we've spotlighted serving in both local and global communities too! These are members that have felt called to serving opportunities outside of Dulles Community Church and while they serve humbly, we still like to celebrate and encourage them with prayer.
Projects We Love & Support
Join us for Be Rich 2019. Our church is participating in a campaign to encourage giving this season. Join us as we support local non profit organizations through serving opportunities and a special Be Rich Offering. We are encouraging everyone to participate in the Be Rich 2019 campaign.
SERVE
at one of the Be Rich volunteer events starting November 10 by signing up
online
or
email
for DCC serve events starting the first week of November.
NOVA-HTI's goal works to network, serve, pray, and create awareness to mobilize the local Church and community to make a difference in its own neighborhoods and ultimately, eradicate human trafficking in Northern Virginia. NOVA-HTI stands on the front lines of human trafficking by connecting with the public, law enforcement, service providers and volunteers to identify those being trafficked and provide intervention, crisis response and aftercare services.
The Dulles South Food Pantry is a multi-faith emergency food pantry. They provide nutritious food, personal supplies and other services to those in need in Dulles South and the surrounding area that come to us regardless of income, faith or other criteria. They are an all-volunteer organization focused both on feeding the hungry and promoting the self-sufficiency of those we serve. Donations to the Dulles South Food Pantry are tax deductible.
Mobile Hope improves the lives of young people, 24 years of age or younger, who are who are precariously housed or homeless in Loudoun County. They create pathways for this fragile, overlooked, and often unacknowledged population to have access to housing solutions, daily essentials and life-changing support.
ORPHANetwork serves around 360 RESCUED children through six orphanages, or homes, across Nicaragua. Dulles Community Church partners with ORPHANetwork to support and sponsor Hogar Puente de Amistad, an orphanage located near Managua, Nicaragua. Besides financial support, we frequently send teams of Dulles Community Church members to visit the orphanage and learn from their stories.
Founded several years ago by Brad Russell, Washington West holds in highest regard and looks forward to spotlighting films that provoke us to dream and question what we know to be true - films that inspire us to see the potential of what could be and that ultimately paint a unique picture of the raw human condition.

Washington West uniquely turns its audience members into producers of amazing stories and films by giving 100% of its box office net proceeds to a project of hope each year.
Use your unique gifts to help build the Kingdom.
If God is prompting you to be more generous with your time or if you're looking for a team of fun, passionate and loving people with which to serve God and your community please tell us which team excites you.

We have lots of opportunities available that require a variety of skills and our teams serve on various rotating schedules (or you can even sign up to be a back-up). Although we will warn you - you will form some amazing bonds with your serving team - we have some teams that love serving together so much that they will serve on all schedule rotations.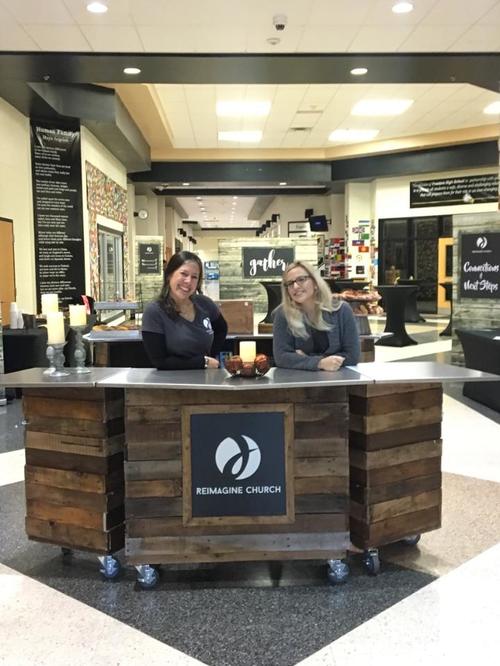 Spotlighting Servant Hearts
Kristen staples || hope to walk
Hope to Walk gives low-cost prosthetic legs to amputees in developing countries. One leg costs $100-200 (a fraction of the price of a normal prosthetic) and it changes a life forever.
Hope to Walk also has a program in which you can donate a leg in honor (or in memory) of a loved one - a gift that's hard to beat.
Kristen met this nonprofit when her and her daughter took their first mission trip to Honduras. The rest is history - she jumped in and became part of their volunteer team and has now traveled to a couple of different countries supporting this nonprofit.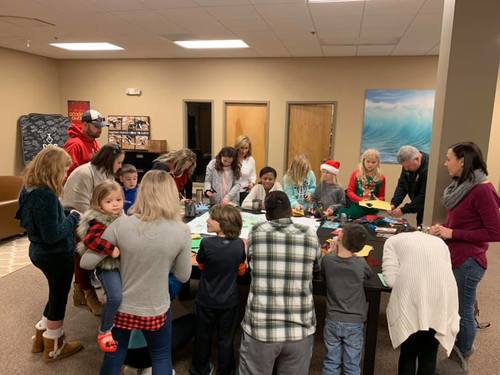 DCC MOVE KIDS || INOVA FAIRFAX
Our sweet Move Kids (nursery - 5th grade) decorated hand-written Christmas cards and delivered them with gifts to the pediatric patients and families that had to spend Christmas in the INOVA Fairfax hospital.
Barry & Christina Jones || building homes
Partnering with Crossroads Church in Las Vegas and the YWAM organization, Barry & Christina Jones are giving back through a mission trip to Mexico. Two young families are currently living in poverty but have managed to save enough money to buy land so we are surprising them by building each of them a home.
The relationships built by modeling God's servant heart last a lifetime. One of the greatest parts of the trip is to go back to visit the families who are the new homeowners from prior years trips and see the positive changes in their lives.
[2019 pics coming in the summer]
One of our DCC Crew chose to love, support & make dinner for patients, patients' families and the staff at the assisted living facility, Adler Center For Caring in Aldie, VA.
At Dulles Community Church our crews serve throughout the year as they honor the 'compassion' component of our crew curriculum.
Interested?
Join one of our crews
If you or someone you know is modeling a servant heart, please send us pics & a short description. We would love to celebrate with them!
we're always looking to build relationships with more local organizations that have a mission to serve. If you love a local mission and want us to check it out, please Fill out the form below.